Welcome to the Weekend Watch. Where we try to point you towards the best ways to spend your viewing time (or, at least, steer you clear of the garbage).
Movies
Collide
Loren: Why is Anthony Hopkins the only British person in this movie filled with British people that takes place in Europe speaking in his natural English accent? Meh, it's like a mediocre version of the Transporter with a better cast. I may eventually catch this on Crackle.
RDT: Holy shit, this….looks…..terrible!
Rick: *addressing Sir Anthony Hopkins and Sir Ben Kingsley in Oprah's voice* You get a boat payment! And you get a boat payment!
Jen: It's so refreshing to see a smart, talented woman playing a damsel in distress with no agency whatsoever. Wait, no, it's not.
---
Get Out
Loren: I have no idea what to expect from this movie and I can't wait. It looks amazingly terrifying. If this is the kind of stuff Key & Peele are doing instead of their show, I might be a little less bummed about it ending.
RDT: Like many other, apparently very good, horror movies posted here before, I look forward to watching this from Rick's kitchen.
Rick: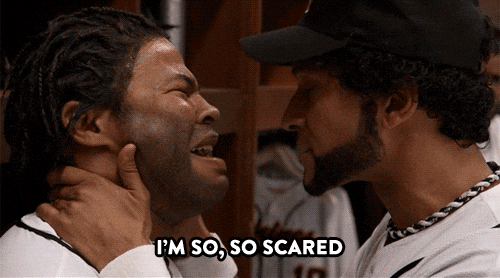 Seriously, though. This looks effing terrifying. I can't wait.
Jen: This looks fantastic – equal parts funny and scary, and I'm almost curious enough to venture to the theater for it…
---
Rock Dog
Loren: I don't want anything to do with this paint by numbers movie.
RDT: Ok, the voice cast for this is actually pretty good. I hope they all enjoy their boats.
Rick: So it's Poochie Begins?
Jen: No one show this trailer to my daughter. Seriously, she must not know it exists, lest I am forced to sit through it a zillion times. We'll have to undertake a similar strategy to Calliou. This movie does not exist. What movie? Who said that? Moving on.
---
The Girl With All The Gifts (Limited)
Loren: At least it's a different take on the tired Zombie trope? I guess. I don't know. I don't think I can be bothered with this one.
RDT: No more zombies, please.
Rick: Oh look! Another GD zombie movie! And it looks like they watched the first season of The Walking Dead and 28 Days Later before they wrote it. FFS, people. There are other monsters besides zombies. Try harder.
Jen: Zombie movies peak in Republican eras, while vampire movies peak in Democrat eras. It's a science thing. Maybe that explains it? Not sure when we get the glut of werewolf movies though?
---
https://www.youtube.com/watch?v=BpcYA4Xnhhk
Bitter Harvest (Limited)
Loren: Why is this movie in English?
RDT: I'm sorry if it makes me an asshole, but I just don't care.
Rick: Listen, I love me some Terence Stamp, but I would rather watch a documentary about this story than sit through this meh-looking movie.
Jen: This seems like an interesting, and devastating, unknown story. But… the accents, the performances, none of it is grabbing me.
---
Kiki (Limited)
Loren: I most likely won't search this out but it is quite the interesting subculture.
RDT: Too many docs for me.
Rick: I couldn't help smiling watching that trailer. I may not catch this in theaters but it'll stay on my radar.
Jen: I loved Paris is Burning and sat through the first minute of this trailer thinking 'is this the same movie'? Then I noticed the pull quote "Paris is Burning for the millennial set" so maybe I do a double feature to see what has changed in 25 years and what hasn't. I could certainly watch this movie.
---
https://www.youtube.com/watch?v=fmMhwZ0Ia2s
Punching Henry (Limited)
Loren: I agree with Rick, this is like a not as good Don't Think Twice from the west coast perspective. I'm probably not going to see this movie.
RDT: I have no idea who Henry Phillips is. The supporting cast is pretty awesome though. I may catch it eventually.
Rick: This reminds me a bit of Don't Think Twice and I like the cast, but for some reason it just isn't resonating. Pass.
Jen: This looks pretty good, if the reviews are solid I could see myself catching this on streaming down the road.
---
Streaming/TV
https://www.youtube.com/watch?v=2c1LihE9kFw
The Good Fight (CBS All Access)
Loren: I didn't watch The Good Wife, I probably won't watch this. Plus I dropped my CBS All Access subscription. The classic Double Whammy.
RDT: I watched all 7 seasons of The Good Wife. It was a phenomenal show. This was created, and will be run by, the same people. The cast that carries over from that show to this is great. The reviews are pretty good, too. But, I dunno, maybe because it's on CBS All Access, I just have no desire to watch. Not one. I'm sure I'll catch it down the road when it goes to Amazon, Hulu or Netflix. But for now, one show isn't worth me subscribing to yet another streaming service.
Rick: I'll never watch this, but I'm curious to see if this is actually getting people to subscribe to CBS All Access. If this doesn't catch on, I'm betting CBS will rethink their exclusive programming plan.
Jen: Christine Baranski is fantastic, but not enough for me to subscribe to a new service for a sequel to a show I didn't watch in the first place.
---
I Don't Feel At Home In This World Anymore (Netflix)
Loren: Knowing that this won at Sundance gives me a little more hope but I didn't love that trailer. The jury's out.
RDT: Hmmm….I get a poor man's Coen Bros. vibe from this. Not to say I won't watch it, but not to say that I will either. So, in summation, it reminds me of other filmmakers' movies and I either will or will not watch it.
Rick: This won the top prize at Sundance less than a month ago. Way to capitalize on that, Netflix. I wasn't expecting to see this for a while yet, but I'm glad it's here. I'll likely watch this over the weekend.
Jen: I love Melanie Lynskey and am so happy to see her starring this (even it it's billed as an Elijah Wood vehicle) so I'm IN on this one.
---
Michael Birbiglia: Thank God for Jokes (Netflix)
Loren: I like Birbiglia's material so I'll add this to the queue.
RDT: I don't even need to watch the trailer. If I was to ever do stand-up, Mike Birbiglia is who I would steal from most. In.
Rick: Stand-up isn't something I watch often, but I like Mike Birbiglia. I'll throw this in the queue.
Jen: I've been having a resurgence of love for stand up thanks to Netflix, so I'm adding this to the queue for sure.
---
Trevor Noah: Afraid of the Dark (Netflix)
Loren: I will probably also watch this, but just not right away.
RDT: I love good stand-up. But I just don't find Trevor Noah all that funny. I think I saw his last special….? **shrugs**
Rick: Like I said up there, not a lot of stand-up in my world. I don't really find Trevor Noah that funny. I won't throw this in the queue.
Jen: He is just so dreamy. What? I mean, I've been having a resurgence of love for stand up thanks to Netflix, so I'm adding this to the queue for sure.
---
Patriot (Amazon)
Loren: Even Red Forman, John Locke, the bad cop from Batman Begins, and the quiet girl from Pitch Perfect won't be able to get me to remember to watch this show. It's probably great. I'll never know.
RDT: This may be good. Hell, it may be great, but I feel like it's going to get lost with all the other quality Amazon shows I never remember to watch.
Rick: This was not what I was expecting, but in a good way. I'll add this to the queue.
Jen: I love me some Terry O'Quinn, but I have to echo what RDT said.
---
So that's your upcoming weekend in review. Let us know what you saw, liked and/or hated.
As always, you can find us on Facebook at facebook.com/hollywoodpicturenews, or @HWPicNews on Twitter. And send in your questions/comments to questions@hollywoodpicturenews.com.
From Hollywood,
–Loren, RDT, Rick, and Jen