We're running a little late this week, and I don't know how to do the top picture Loren usually drops in. So, you're gonna have to deal.
Happy FriYAY! –RDT
Welcome to the Weekend Watch!. Where we try to point you towards the best ways to spend your viewing time (or, at least, steer you clear of the garbage).
Movies
Wide Release
A Wrinkle In Time
Loren: I'm not gonna lie that looks pretty incredible. I don't remember reading the book when I was a kid and I'm actually glad for that so I can go in fresh and not know where the story is going.
RDT: Early reviews are not great. And, honestly, I'm just not wowed by it. I'll probably catch it eventually, but as of now, I'm in no rush.
Jen: Yes, yes, yes! I read all of the books in the series. I wanted to be Meg Martin! I don't have a spirit animal, but if I did it'd be a combination of Mindy Kaling, Reese Witherspoon, and Oprah, so, yeah – they're getting my money.
---
The Strangers: Prey at Night
Loren: I didn't see the first one, so I might be lost. This also doesn't seem like my type of horror movie. Maybe down the road but I doubt it.
RDT: Though I'm not a horror guy at all, surprisingly, I did see the first one. If this is anything like that, I'll pass.
Jen: Excellent use of Tiffany. But no, I'm not seeing this.
The Hurricane Heist
Loren: Hahahaha that looks hilariously bad and I'm kinda all about it. It's like Geostorm meets Hard Rain and that's a good thing.
RDT: What Loren said.
Jen: My Jason from True Blood meets Shannon from Lost fan-fic is finally being made! Yes!
Gringo
Loren: I'm pretty sure Joel Edgerton's character was written for Jason Bateman and David Oyelowo is playing this a little too over the top for my personal taste. I think I'll probably pass.
RDT: Meh.
Jen: Oh yeah, I can TOTALLY see that being Jason Bateman, now I can't unsee it. I keep seeing posters for this around town and the cast is surprisingly stacked, but it just isn't sucking me in enough to see it.
---
Limited Release
Thoroughbreds
Loren: That at least looks like my type of "Dark Comedy". I'm kinda into it, plus it looks like this is one of (if not the) last role for Anton Yelchin. I'll give it a go eventually.
RDT: Oooohhh, I am intrigued by that. If it stays on my radar, I'll catch it streaming.
Jen: I accidentally watched the trailer for this with trailer commentary (I didn't know that was even a thing) and that made me want to see it even more.
---
The Death of Stalin
Loren: Steve Buscemi looks even weirder than usual. That's my first takeaway from that trailer. Number two is that I'm not sure I'm into the humor here. If I hear good things I'll check it out otherwise it'll fall to the wayside.
RDT: Once again, what Loren said.
Jen: I love me some Michael Palin so that does give me a little hope for this but I'm just not bowled over by it. Trying to come up with a Russian pun as well and I'm still working on it.
---
https://www.youtube.com/watch?v=mHimvUy7ZQk
Sheep & Wolves
Loren: Well that didn't look very good now did it. Can't win em all I guess.
RDT: I don't think I could be more ambivalent.
Jen: This trailer felt really long and I cut it off early, I don't think I could handle 88 minutes of that.
---
Girls vs Gangsters
Loren: Apparently this is a sequel to Girls but all it screams to me is Chinese The Hangover. I think I'll pass.
RDT: So, Asian Girls Trip….? I'm good.
Jen: What RDT said.
---
Flower
Loren: That looks fucked up and I kinda want to see it.
RDT: Looks a little all over the place, but I'm down. Sure, eventually.
Jen: You had me at Kathryn Hahn. Adam Scott is just the icing on the cake.
---
Bent
Loren: This feels like a movie I would have eaten up in high school. Maybe some night when I'm in that late 90s action nostalgia mood I'll pop this on but I sure as shit ain't seeing that in the theater.
RDT: Wait…so Karl Urban is trying to be the new Jason Statham….? I'm a fan of the KUrb (what I can only assume his close friends call him), but I think I'll pass on this one.
Jen: What accent should Karl Urban have here. Is that Australian, English, American, I felt like I was chasing it around for 2 mins.
---
https://www.youtube.com/watch?v=BQYGbfVfpm
Leaning into the Wind
Loren: The cinematography is beautiful but what even is that movie?
RDT: Wait…so it's literally a movie about wind (and leaning into it)? Well, it's definitely a shoe-in for most accurate title at next year's Oscars.
Jen: This feels like a film I watch in a museum or gallery and not a movie theater, so I'll see you at LACMA!
---
TV/Streaming
NETFLIX
https://www.youtube.com/watch?v=hSvnepZS26s
Marvel's Jessica Jones Season 2
Loren: 
RDT: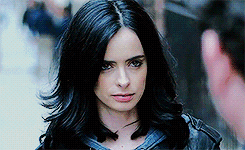 Jen: 
---
https://www.youtube.com/watch?v=L6iqoFg-hyg
Ladies First
Loren: I'm not sure you could get anymore specific than that premise but I'd be lying if I said it didn't look interesting. If the mood strikes me I could see checking this out.
RDT: I'll add it to the queue, but may not ever actually get around to watching it. Sorry.
Jen: That looks lovely! And a short? I have no excuses.
---
https://www.youtube.com/watch?v=gJmjKv7WP7U
Collateral
Loren: A Netflix port of a BBC cop drama with 24 overtones starring Carey Mulligan. I don't see how I could miss it.
RDT: Too much tv.
Jen: That does look pretty good. I'm going to have to agree with Loren on this one.
---
https://www.youtube.com/watch?v=HpiAVK_T_aU
Love Season 3
Loren: I feel like I should be into this show but for some reason I'm not. This is the final season though so maybe when it's all wrapped up I'll give it an actual try.
RDT: It never really grabbed me, this show. Maybe one day, but probably not.
Jen: I watched almost all of season 1 and then gave up. That's not a strong endorsement.
---
The Outsider
Loren: I think that the Jared Leto backlash is a little too strong for me to even consider this movie. The concept is intriguing though, oh well.
RDT: I found the trailer pretty boring. Also, Jared Leto is a dick.
Jen: https://www.youtube.com/watch?v=JRK_OMQGQlc
---
A.I.C.O. Incarnation
Loren: That's not so much a trailer than a scene from the movie, but it's all that I could find. First off this just looks weird. Surprising for Anime I know. I don't know that I'll take the time for this but it looks at least a little interesting, but yeah, also weird.
RDT: Not my thing. But I hope Jen's dad loves it.
Jen: Dad – look! Something new for you to watch on my Netflix account!
---
HULU
https://www.youtube.com/watch?v=7gItQzbxKeY
Hard Sun
Loren: An extinction level event show by the people who made Luther? Yeah, ok Hulu, you have my attention.
RDT: I heard about both an extinction event show, and a new, gritty show from the Luther peeps. I had no idea they were the same show. I'll definitely give it a shot.
Jen: That looks both interesting and… violent. Not sure if I'm up for such a downer.
---
Amazon
Sneaky Pete Season 2
Loren: Still need to watch season 1 but I hear good things.
RDT: Fuck! I forgot to watch season 1.
Jen: Oh yeah, that show!
---
The Remix Season 1
Loren: Bollywood American Idol with DJs? Interesting. Sadly I'm not too into the Bollywood style of music so I'm probably not going to check this out, but if it came stateside maybe I'd give it a go.
RDT: Well doesn't that just look a show I'm never going to watch.
Jen: I like the idea of this show and my daughter has started to get into Bollywood music and dance so this is a maybe for us…
---
So that's your upcoming weekend in review. Let us know what you saw, liked and/or hated.
As always, you can find us on Facebook at facebook.com/hollywoodpicturenews, or @HWPicNews on Twitter. And send in your questions/comments to questions@hollywoodpicturenews.com.
From Hollywood,
–Loren, RDT, and Jen