Welcome to the Weekend Watch. Where we try to point you towards the best ways to spend your viewing time (or, at least, steer you clear of the garbage).
Movies
Wide Release
Suspiria
Loren: Well that certainly looks different than the Argento version we just watched. Besides the witches and the ballet school, this looks to be much more "realistic" in it's violence. As long as it moves at a bit of a faster clip I can see people enjoying this remake. It's got the right people behind it.
Rick: Like Halloween last week, I've been on a media blackout for this movie since the first teaser dropped. I'm incredibly curious how this one turned out.
Jen: Tilda Swinton immediately ups the creep factor of any film. This looks very disturbing and I like it.
---
Hunter Killer
Loren: I wish that I liked Gerard Butler or cared more for submarine movies. This could be a good couch watch down the road though.
Rick: This looks like just the kind of dumb/overdone action movie I can throw on after a long day at work.
Jen: Hot guys in a submarine, this looks like dumb action fun, I wouldn't go out of my way for it, but wouldn't shut it off if it appeared on a streaming device.
---
Johnny English Strikes Again
Loren: I normally like British humor but I've never gotten anything from Rowan Atkinson. This looks like a less funny Johnny English movie which are like 2 steps behind Austin Powers movies and like 4 behind Spy with Melissa McCarthy. No thanks.
Rick: Ahhh…mmmm…ehhh…no.
Jen: But I didn't see the original Johnny English, I think I'd be lost in such a plot-dense story.
---
Limited Release
Bullitt County
Loren: Hell yeah, brother.
Rick: This actually looks like a decent little mystery/thriller. I'll keep an eye out for it.
Jen: For something with a mostly Kickstarter backing, this actually looks pretty cool. See cheap movies you *don't* have to always look like shit.
---
Baazaar
Loren: I didn't even finish the trailer. I don't care about our main character and if he succeeds or not. No thanks.
Rick: So it's Indian Wall Street? I think I'm good.
Jen: Make money, money-money-money. That song will be stuck in my head all day now.
---
Viper Club
Loren: If you were wondering what the most boring version of Taken would be, here it is! There's definitely something insidious happening here but I don't know if I can slog through the movie to find out what it is.
Rick: The talent involved makes my brain go "yes", but the fact that it's a YouTube Original makes my brain throw up in its mouth. Call it a soft maybe.
Jen: I don't know, I feel like I should have been more moved by that trailer than I was. I guess we'll see?
---
Trust Machine: The Story of Blockchain
Loren: But like, what is it? I feel like this doc isn't actually going to answer that. Also, I'm still fine with government issued cash. Call me old fashioned.
Rick: I honestly don't believe that cryptocurrency is ever going to go mainstream. There are too many of them, security is a huge problem, and its value is far too volatile for any major business or banking institution to accept it. As far as what else blockchain can do, I'm clueless. I've tried reading articles about it but the material goes over my head. Maybe this will distill the concepts enough that I can wrap my brain around it.
Jen: I have read up a bit on cryptocurrencies and blockchain and always end up with my eyes glazed over and too lost to continue. If this doc can keep my interest and dumb it down to my level I'd love to see it. However, it feels a bit like they're assuming a base of knowledge I don't have. I'll give it a chance though.
---
The School
Loren: Bad title aside, this looks damn terrifying. I hope it's good enough to make it onto the docket of an upcoming Horrorfest.
Rick: That actually looks effectively creepy. I'll give it a go.
Jen: There were a lot of production company logos at the beginning of this for it just being a trailer. The dead child/child in peril aspect combined with the scare factor might keep me away from this.
---
The Long Shadow
Loren: I just wish that this doc had a bit more production value to keep the people it needs to be talking to captivated. It's also mind blowing that this is a topic we STILL have to cover.
Rick: I'm curious about this one. It's a very different jumping off point than you'd normally get with a doc of this type. I'll keep it on my radar.
Jen: Sure, I'll give it a whirl.
---
Solis
Loren: I hope that Steven Ogg has the chops for this as it's almost a one man show. As for me, I'm a little undecided on this one.
Rick: Unfortunately it seems like they've given away every dramatic moment aside from the actual ending. It looks well produced, though. I'll probably just read the wiki to find out how it ends.
Jen: Trapped or floating through space movies are my worst nightmare. I wasn't able to get through Gravity and I don't think I'll be able to sit through this one either.
---
Silencio
Loren: I hope the cop from Sherlock and Pacey's science Dad are able to figure this one out. Also, this has a weird high budget but straight to streaming look to it.
Rick: I'd like to silence the overbearing music in that trailer. Cripes. Also, I have zero desire to see this movie.
Jen: You guys I LOVE John Nobel. LOVE. But this looks like it should have been a late-season X-Files episode. That's not necessarily a bad thing, but it's not exactly a ringing endorsement either.
---
Monrovia, Indiana
Loren: Does every Documentarian have to do a slice of life doc on their hometown? Look out New Fairfield, CT, I'm coming with a film crew!
Rick: I mean, this place looks quaint and it probably has a great diner to stop off at on a road trip, but I'm at a loss as to what the actual hook for this documentary is. Pass.
Jen: This looks like an excellent companion piece to Hale County, This Morning, This Evening. A day in the life look at two very different places. Even the form of the films themselves reflect their subjects. Where Hale County is quick and we don't get to know the subjects very well, Monrovia is slow and deliberate, which seems reflective of how life is lived in these communities. I'm fascinated.
---
Love Jacked
Loren: Damnit. I like Amber Stevens West but that looks awful. Also, I'd rather just watch Coming to America than it's weird bastardised inverse.
Rick: The title of this movie sounds like something I shouldn't be looking up at work.
Jen: That sure is a romantic comedy premise.
---
https://www.youtube.com/watch?v=6tkw2g–cvE
London Fields
Loren: Hey check it out it's Male Gaze the Movie! I'll agree with my colleagues here that this looks pretty terrible, but it might be just bad enough to come around and be hilarious.
Rick: I'll take movies that have been sitting on a shelf since 2015, Alex. And, honestly, I kinda want to watch this just to see how truly bad it is.
Jen: That… does not look good.
---
Killer Kate! (Red Band)
Loren: This looks a little too student thesis for my personal taste but that last bit of the trailer gave me a chuckle. So there's that I guess.
Rick: I had to look up what this movie was really about. I wish they had bothered to put the actual setup of the movie in the trailer. Knowing it makes me want to give the movie a chance. But this trailer is a confusing mess and makes me actively not want to bother.
Jen: I didn't make it all the way through this trailer. So, no.
---
Indivisible
Loren: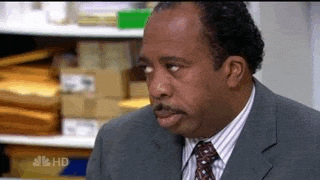 Rick: Nooooooooooooooo. No. No and no.
Jen: What Rick said.
---
Glass Jaw
Loren: Man, this week is rough. I don't really care for "boxing" movies but this takes that to an entirely different level. Pass.
Rick: Jesus, that looks terrible. Also, why did he go to jail? I watched the first minute of that trailer twice and couldn't figure it out.
Jen: Did he throw the fight, maybe, Rick? I could not follow that trailer, I didn't realize we were seeing his backstory and didn't understand how the kid at the beginning was related till it was almost over. Not an easy to follow trailer.
---
First Love
Loren: The Fault In Our Star Cinema.
Rick: I still don't understand the free switching between English and the country's native language (Tagalog?) that's happening these days. Anyway, this looks romantic enough, but I think I'm good.
Jen: There's nothing objectionable here, I just know I'll never see this.
---
Don't Go
Loren: Meh. What happened to Melissa George? How the mighty have fallen I guess.
Rick: Weirdly similar to The School, though I'm less inclined to see this one. *shrug*
Jen: Enough with a cute little kid dying already. At this point, I'm never taking my daughter near water again.
---
TV/Streaming
NETFLIX
Adam Sandler: 100% Fresh
Loren: I want to like Adam Sandler but I think that time in my life has passed.
Rick: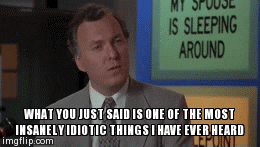 Jen: No.
---
Bodyguard
Loren: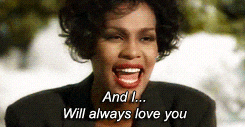 Also, why does Rob Stark always end up covered in blood?
Rick: I'd have been a bit more on board with this had it been a movie rather than a series.
Jen: I'm intrigued. Not sure if I'm intrigued enough to watch a whole series, but intrigued nonetheless.
---
Shirkers
Loren: Interesting. I don't know how high up on the Doc Doc™ that's going to go, but it'll go on there.
Rick: Well, that took an unexpected turn. You have my attention. Into the queue it goes.
Jen: Ooohhh I've read a couple of articles about this doc already, I cannot wait!
---
Castlevania Season 2
Loren: Haven't watched the first season yet but I still plan to. There's just soooo much out there right now.
Rick: I've had the first season in my queue since it debuted. I still want to watch the pilot before I give up on it entirely.
Jen: Oh thanks, but I'm OK.  Next
---
The Chilling Adventures of Sabrina
Loren: I am very much looking forward to this. It hits a lot of the right genre spots for me. Very in.
Rick: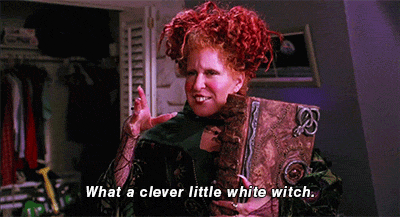 Jen: Sure, I'll give this a shot. I missed the chance to get into Buffy on the ground floor and this feels a lot like a new-wave Buffy so maybe this is my chance to be one of the cool kids.
---
Patriot Act with Hasan Minhaj
Loren: That's a terrible trailer for the show. I really like Hasan Minhaj but Netflix does not have a good track record with their weekly shows. Plus as Rick points out below, I can get this from my John Olivers, Sam Bees, Trevor Noahs, Seth Meyers, etc.
Rick: Oh look! Another political news show with a comedic bent. Certainly aren't any of those on every channel or streaming service ever. *snore*
Jen: I love you Hasan Minhaj. I like that they're trying something different than the John Oliver guy-behind-a-desk trope. It's a gamble for Netflix, but I can't resist a long, well-researched, mini-doc with such an adorable host.
---
SHOWTIME
Ray Donovan Season 6
Loren: I haven't watched a second of this show so I'm definitely not starting with season 6.
Rick: Good lord, this is still going? I mean, good for the people who work on it, but I am super out.
Jen: Good for you Liev Schreiber, it's nice that somebody is watching this, it's not me.
---
So that's your upcoming weekend in review. Let us know what you saw, liked and/or hated.
As always, you can find us on Facebook at facebook.com/hollywoodpicturenews, Instagram at instagram.com/hollywoodpicturenews, or @HWPicNews on Twitter. And send in your questions/comments to questions@hollywoodpicturenews.com.
From Hollywood,
–Loren, Rick, and Jen