Welcome to the Weekend Watch. Where we try to point you towards the best ways to spend your viewing time (or, at least, steer you clear of the garbage).
Movies
Atomic Blonde
Loren: Let's hope this is more Furiosa and less Aeon Flux.
RDT: 
Rick: 
Jen: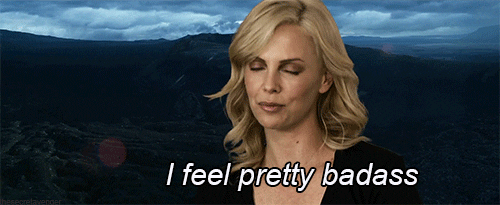 ---
The Emoji Movie
Loren: Is there an emoji for "nope the fuck no, get the fuck outta here with this lame ass bullshit"? Asking for a friend.
RDT:
Rick: A garbage idea for a movie begets garbage marketing:
Yep. That happened.
Jen: I'm such a no on this that I won't even use an emoji to express my feelings. Sad face. Poop icon.
---
An Inconvenient Sequel: Truth to Power
Loren: I'm with Rick on this one. I'm glad this is a movie but I already know all of this.
RDT: What everyone else said is similar to what I would say.
Rick: I'm glad Al Gore is still out there stumping for climate science, but this is preaching to the converted for me.
Jen: Al Gore is doing his part to save the world. If only a few more people were paying attention.
---
---
Brigsby Bear (Limited)
Loren: That looks just weird enough. Like an alternate reality Kimmy Schmidt. Probably not in the (Limited) theater, but I'll check it out streaming.
RDT: Curious as well. But also probably streaming.
Rick: 
Jen: Color me curious. This seems like an excellent vehicle for Kyle Mooney's brand of humor.
---
Armed Response (Limited)
Loren: I was about to go on about how WWE films that don't have WWE superstars in them fascinate me and then BOOM secret Seth Rollins! This looks pretty silly and like a couple other movies out there, but I'm sure I'll check it out some lazy Sunday. I just hope Wesley Snipes filled out his W2.
RDT: Rick, can I watch this at your house with all of our friends?
Rick: Robo-prisons, man. They're the worst. Also: Anne Heche and Wesley Snipes, together at last!
Jen: This looks deliciously bad.
---
Imperfections (Limited)
Loren: I like a good heist/caper movie but this doesn't look like it hits the right spot for me. Good cast and a little interesting looking, but the fact that it looks like a step above a student film puts me off.
RDT: Maybe, someday, I guess. **shrugs**
Rick: It's nice to see Marilu Henner again, but I don't know that I care enough to find out what the everloving hell is going on in this movie.
Jen: A good cast, but nothing draws me into this Woody Allen-esque film particularly.
---
https://youtu.be/YY0NEHFP4lE
The Last Face (Limited)
Loren: It's Charlize Theron week! Are they hoping people accidentally go see this instead of Atomic Blonde?
RDT: That trailer did absolutely nothing for me.
Rick: Excellent cast, but it's just not lighting my world on fire.
Jen: If you Google this title the first review to pop up is "Sean Penn's Festival Laughingstock Finally Slips Into Theaters". Not a great sign.
---
Menashe (Limited)
Loren: I'll be the odd man out here and say that I know I won't see this movie. I'm sure it's good. A24 rarely misses (I'm looking at you Barely Lethal), but I just don't see this staying on my radar.
RDT: A24 plus a good trailer, yeah, I'll keep this on my radar.
Rick: Yep. Definitely.
Jen: Surprising even myself, I genuinely want to see this.
---
Person to Person (Limited)
Loren: Sure? I…I don't know…just read everyone below me. That's how I feel too.
RDT: I feel like I've seen this movie a million times before, and yet, I still enjoyed that trailer.
Rick: Definitely in the running for the most New York movie of the year. That aside, it looks like a lot of fun. I'll keep it on my radar.
Jen: This smacks of 90s Robert Altman, in a good way.
---
Strange Weather (Limited)
Loren: That looks excellent. Plus any time you can make Kim Coates not look like a complete scumbag is impressive.
RDT: I really liked that trailer. And love me some Holly Hunter. Definitely in for this. Maybe even in theaters.
Rick: 

Related: I have a huge crush on Carrie Coon thanks to season three of Fargo.
Jen: I like the idea of this movie but I doubt I'll end up seeing it.
---
The Untamed (Limited)
Loren: I really wanted to be into this but sometimes I just want my horror to be horror and not an art film.
RDT: No thank you.
Rick: I'm incredibly tempted to look it up and see if this is an unsettling drama or a horror movie, but I'm just going to pull the trigger and watch it.
Jen: I did not have Rick's restraint and did look up some info. I am intrigued. This has a very An American Werewolf in London feel. That is a very good thing.
---
https://youtu.be/wbKPslzBQPc
500 Years: Life in Resistance (Limited)
Loren: I don't think that I need to see this as a full documentary. Maybe a half hour "short" would work better for me. Which totally sounds like I'm belittling the subject matter. Damn, that was not my intention.
RDT: I have no feelings about this trailer.
Rick: Well, since that gave away the entire arc of what appeared to be a compelling story, I don't have to spend 90+ minutes watching the movie. Thanks, Trailer!
Jen: I always love a good doc, but Rick has a great point. We already know what happens and I wish we didn't.
---
Birthright: A War Story (Limited)
Loren: What the actual fuck. I hate people so much.
RDT: Infuriating.
Rick: So filled with rage…so many narrow-minded, unfeeling morons trying to strip rights from people…
Jen: This is pretty terrifying, I have nothing more to add. This is terrifying.
---
Bronx Gothic (Limited)
Loren: I feel like this is something you would get so much more from if you were to see it live. That being said, the behind the scenes nature of this could really add to its impact.
RDT: What everybody else said is like what I would've said. So just read theirs.
Rick: This must be incredibly arresting to see live, but there's something to be said for having its creator and people in her life guiding you through the experience; Like theater with a commentary track. I'll give it a watch.
Jen: 100% in.
---
The Chinese Lives of Uli Sigg (Limited)
Loren: That man is terrifying.
RDT: What Jen said below. "Too many docs."
Rick: I think I'd rather read a profile piece on this guy. Interesting subject, though.
Jen: I'm really curious about this, but this week suffers from "too many docs syndrome."
---
Santoalla (Limited)
Loren: Is…is this…found footage? Like is this a narrative story or did a documentary really go off the rails at some point?
RDT: There was another recent trailer like this. I couldn't figure out if it was for reals (I'm 40 years old, I should really stop saying "for reals.") or not. Regardless, too creepy for my tastes.
Rick: I love me a good (potential) murder mystery. Sold.
Jen: This looks cool and creepy and I'm in for it.
---
TV/Netflix/Blu-Ray
To The Bone (Netflix)
Loren: Really, just read Rick's entry here. There isn't much more to add.
RDT: Just read Loren's entry here.
Rick: I'm going to lead with this, the warning at the start of the movie:
And follow with this:
I have a nit to pick with Netflix. This actually dropped last Friday, but had I not opened my Netflix app that night I would never have known. It wasn't listed anywhere I could find as debuting that day except on the app/website. Considering the talent involved, it is a huge oversight. This is Marti Noxon's (Buffy the Vampire Slayer) feature directorial debut, and it's excellent. Why did this basically get zero press?
In an industry that has a dearth of female-helmed productions, Netflix should have been banging every drum they had and borrowed a few from the neighbors when it came to this release. The subject matter is difficult, sure, but it's an important topic, and it's handled with great care. While it's hard to watch at times, it is not without humor, and definitely not without hope. Just because it's not mainstream doesn't mean it should be given short shrift. If Netflix isn't going to do a big push for things like this, then they should at least launch a "Coming Soon" section with everything upcoming. This habit of dropping things with zero warning or publicity not only makes it difficult to cover, but it sets a bad precedent, especially with a film like this. /rant
Jen: Rick covered a lot of ground there. For my part, this looks well done, charming, true-to-life and heartbreaking. I'm willing to give it a shot.
---
Joe Mande's Award-Winning Comedy Special (Netflix)
Loren: If your trailer is just one shit joke, is it really a trailer?
RDT: Oh hey! It's that guy! Hey, that guy! Be funnier!
Rick: Meh.
Jen: No, thank you.
---
Daughters of Destiny – Season 1 (Netflix)
Loren: It's important to get this information out there, however, I will most likely never watch this.
RDT: What Loren said.
Rick: I'm glad this exists but, like the Uli Sigg doc, I'd rather read an article.
Jen: This is right up my alley. Too many docs!!!
---
The Incredible Jessica James (Netflix)
Loren: That looks pretty damn funny. I'll definitely give it a whirl.
RDT: Fair warning, be very careful Googling Jessica James when on a work computer. (I couldn't remember what I recognized her from. It was the Daily Show.) Anyway, yeah, I'm in for this.
Rick: Yep. In the queue it goes.
Jen: 100%
---
The Last Tycoon – Season 1 (Amazon)
Loren: I'm a sucker for old Hollywood. I can see myself getting caught up in this show for sure. It's nice to see Matt Bomer in that leading man role for this too. He fits that archetype so well that it's pretty perfect casting.
RDT: Once Amazon Video comes to Apple TV, maybe.
Rick: I'm so bad about watching Amazon's original series. This one looks like an ideal one to binge over a lazy weekend, however.
Jen: I wish I remembered to watch Amazon. But, alas.
---
Diana, Our Mother: Her Life and Legacy (HBO)
Loren: I think I'm just a bit too young (which is now a weird feeling, awesome) to have gotten into the Diana fever that the US had before her untimely passing. It's interesting to see William and Harry as more human figures than we normally do speaking about their mother, but I don't know if that's enough to get me to seek this out.
RDT: What everyone else said (sometimes there are benefits to being the last one posting….).
Rick: As remarkable as Princess Diana was, I'm not fascinated enough by British royalty to take an interest in this.
Jen: What Rick said.
---
https://youtu.be/OHvgGkXHLYA
Room 104 – Season 1 (HBO)
Loren: Cool concept, good people involved. I could get behind this.
RDT: I'll give it a shot, at least the non-scary episodes.
Rick: Not everything the Duplass brothers do is a home run, but you can't claim they're uninteresting. This is right in my wheelhouse. Sign me up.
Jen: I like this. I might give it a whirl.
---
So that's your upcoming weekend in review. Let us know what you saw, liked and/or hated.
As always, you can find us on Facebook at facebook.com/hollywoodpicturenews, HollywoodPictureNews on Instagram, or @HWPicNews on Twitter. And send in your questions/comments to questions@hollywoodpicturenews.com.
From Hollywood,
–Loren, RDT, Rick, and Jen